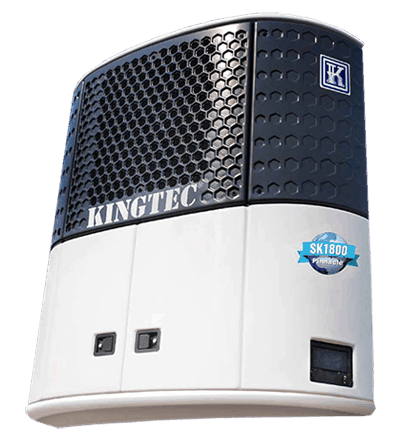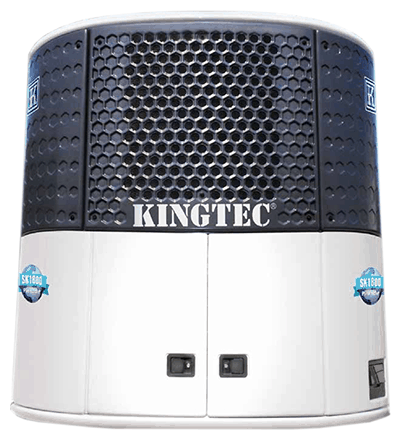 The Kingtec SK1800D Diesel Transport Refrigeration Unit
The Kingtec SK1800D series is designed to outperform the competition while using less engine power. It is a paradigm shift to deliver more with less, and the SK series is the first to achieve and deliver higher refrigeration capacity, outstanding performance, and a greater fuel efficiency while using less power.
The SK1800 platform features a smarter large-displacement 2.2 liter engine equipped with enhanced sensors and an electronic control module. The engine continually communicates with SmartCool® control system to optimize performance and conserve power. The result: an ultra high-efficiency platform that generates higher capacity and performance using significantly less power. The SK1800 engines operate using fewer operating hours at lower speeds, increasing the SK1800 durability, reliability, and efficiency.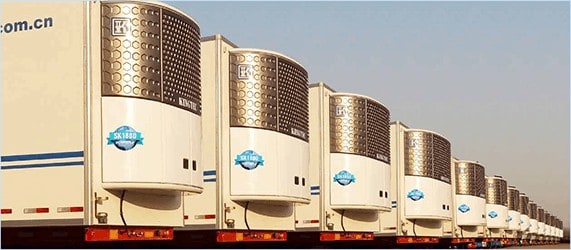 Product Overview
Aerodynamic design with high-strength double sided composite doors
Proven platform design for reliability and improved fuel consumption
Equipped with SmartCool® control system, user-friendly design and accurate temperature control
Designed with low decibel noise reduction
Environmentally friendly refrigerant
Low maintenance costs
Extendended maintenance intervals
Controller monitoring option
Temperature monitoring and trip event recording option
Kingtec SmartCool®
Kingtec SmartCool® is specifically developed and designed for the transport refrigeration industry and incorporates the following:
User friendly operation
Integrated data collection
Engine control and management
Refrigeration system control and management
Warning and default Diagnosis
Remote monitoring platform and data downloading
These integrated features provide the ease, convenience, and efficiency of refrigeration temperature control.
SmartCool® controller-based features:
Intelligent automatic defrost control with manual defrost option
Fahrenheit/Celsius switch
Diesel engine automatic control
Chilled/Frozen mode
Automatic Start/Stop or Continuous Run Mode
Secure self-diagnostic system and debug mode
Data acquisition and storage with remote monitoring via USB computer interface
Parameter setting interface option for end users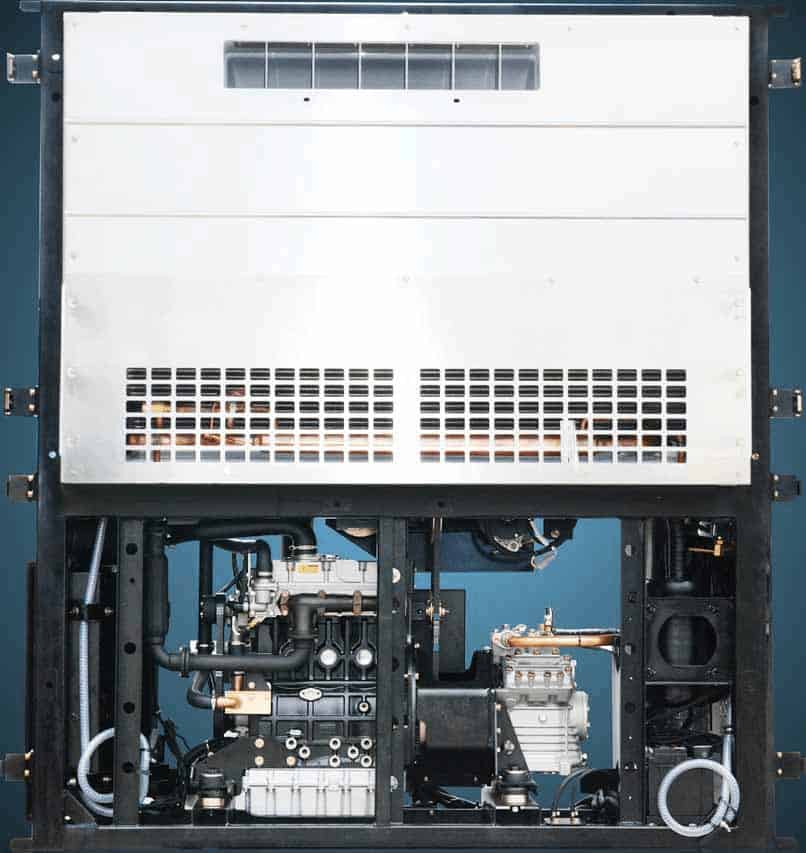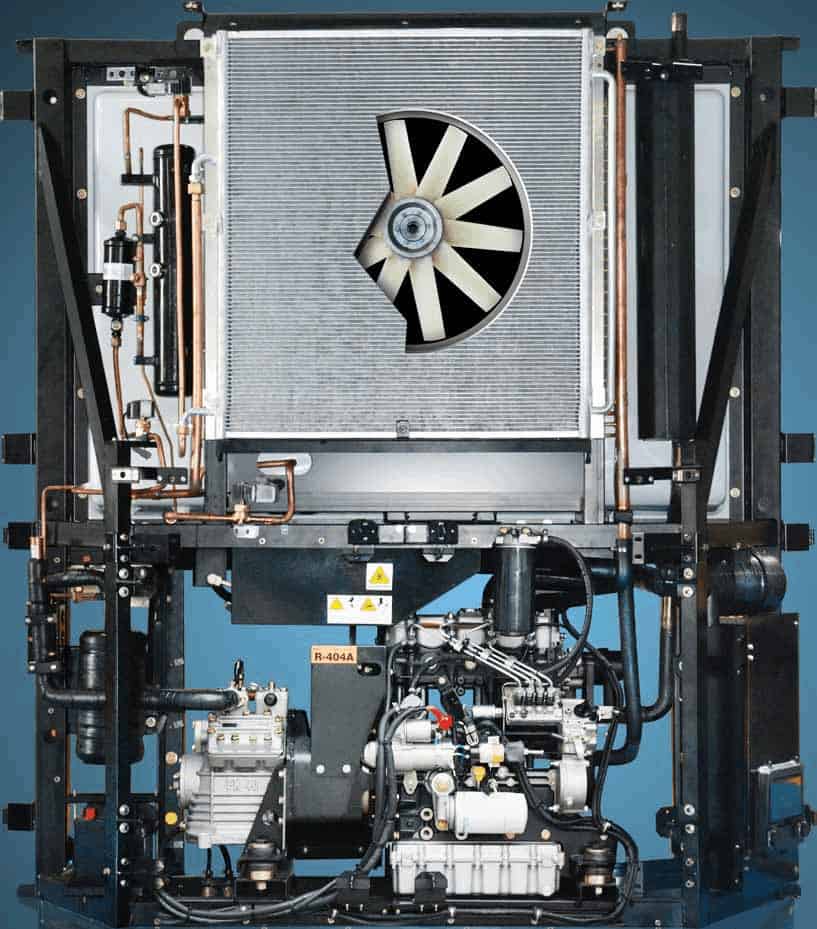 Structure Overview
Install Gallery
REFRIGERATION CAPACITY:

System net cooling capacity at 100°F/38°C ambient and high speed engine operation

Evaporator
Engine Power
BTU/hr
Watts
2°C ( 35°F)
62640
18360
-18°C ( 0°F)
32650
9570
-29°C ( -20°F)
22400
6570
Heating capacity (System net heating capacity at 35/0°F ambient)
Engine Power
51000 BTU/hr / 14950 W
Airflow
Volume at 0 Pa static pressure
3300ft3/min / 5600m3/h
Engine: four cyclinder, direct injection, liquid cooled (Compliant with final Tier 4 EPA Emissions Regulations Standards)
Model
404D-22
Hp Rating at 2200 RPM
24.5
Oil capacity
14.8 qt / 14L
Maintenance interval
3000 hrs
Compressor: lightweight aluminum alloy body, heads and sump
Model
FKX40/655TK
Displacement
40 in3 / 650 cc
Refrigerant: (Zero Ozone Depletion Potential (ODP), internally appoved)
R404A
Charge
16.5 lbs / 7.5 kg
Weight
Weight of unit
1675 lbs / 760kg
Weight of fuel tank
76 lbs / 34.5 kg
Advantage
Fuel efficient
Proven reliability
Simple maintenance
Ease of use micro-controller operation
Low-noise design
SK1800DE Diesel Standard Configuration
Aerodynamic body panels
Lightweight strong composite access door
Proven engine and compressor platfrom
Advanced micro-controller system
HFC-404A refrigerant
Engine System
2.2L Perkins diesel engine 404D-22/4 cylinder/water cooling
Low noise high capacity resonance muffler
High engine coolant temperature protection
Low engine oil PSI protection
High performance alternator 75A
Battery voltage protection
Electronic fuel pump
Extended Maintenance Intervals
Extended life oil and fuel filter
Large 14L capacity oil pan
Heavy-duty dry air filter
Enhanced engine coolant system
Refrigeration System
Block FKX40/655TK/4 cylinder/650cc
High efficient compressor
High efficient micro-channel condenser
Automatic hot gas defrost system
Automatic hot gas heating system
Drain pan heater
Refrigeration system, high and low pressure protection
Unloading system protection
Micro Controller System
Multiple operating control modes
Automatic start/stop (Fuel Saver)
Continues run (constant-temperature mode)
Controller self-diagnostics function
Fault diagnosis system
Automatic Defrost
Voltage detection
Debug mode
Controller Display
Refrigeration, heating, high speed, low speed, defrost
Automatic start, manual start
Defrost temperature control
Temperature setting, discharge air temperature, return air temperature
Cooled water temperature, battery voltage display
Engine total working hours
Weight of Unit
Pinnacle SK1800: 1675lbs/760kg
50 gal./190L fuel tank (including bracket) Weight: 76lbs/34.5KG
Dimensions
Condenser Dimensions: 81.1″ x 84.3″ x 23.6″ (2060 x 2140 x 600 mm)
Evaporator Dimensions: 66.3″ x 45.2″ x 8.2″ (1684 x 1149 x 210 mm)
Body Opening: 66.8″ x 46.0″ (1696 x 1168 mm)