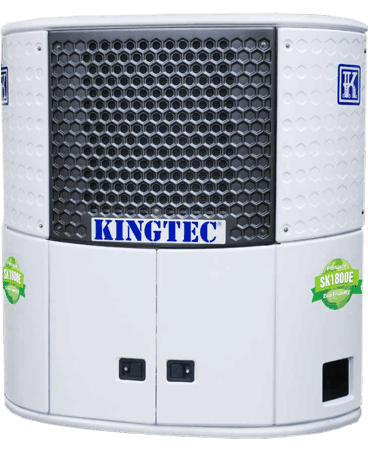 The Kingtec SK1800E All-Electric Transport Refrigeration Unit
SK1800E – All-electric driven refrigeration unit was designed to provide energy saving & environmentally friendly mobile cold solution, compared with conventional engine driven units. TRU effective energy management mode provides convenience for monitoring power facilities and a more effective energy management solution.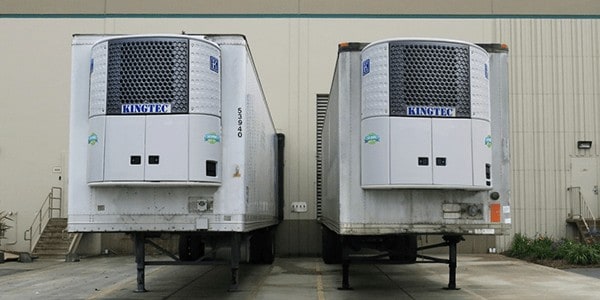 Kingtec SmartCool®
Kingtec SmartCool® is specifically developed and designed for the transport refrigeration industry and incorporates the following:
User friendly operation
Integrated data collection
Electric compressor and fan control
Refrigeration system control and management
Warning and default Diagnosis
Remote monitoring platform and data downloading
These integrated features provide the ease, convenience, and efficiency of refrigeration temperature control.
SmartCool® controller-based features:
Intelligent automatic defrost control with manual defrost option
Fahrenheit/Celsius switch
Chilled/Frozen mode
Automatic Start/Stop or Continuous Run Mode
Secure self-diagnostic system and debug mode
Data acquisition and storage with remote monitoring via USB computer interface
Parameter setting interface option for end users
Main Feautres for Semi-Hermetic Scroll Compressor
Classics vertical design
Ultra quiet compressor
More reliable

Double flexible design
Anti liquid control

Wide using range

Enhanced vapor injection and control technology
Running reliability and safe at -40 to 10°C evaporation temperature

High efficiency

High compression ratio designed scroll plate for frozen application
High efficiency enhanced vapor injection technology

Intellectualized Design

Enhanced vapor injection control
Refrigeration system overall control (Enhancement mode)
Fan speed control, on-off and modular diagnosis (Enhancement mode)
Default warning and remote monitoring (Enhancement mode)
SK1800E REFRIGERATION CAPACITY:

System net cooling capacity at 100°F/38°C ambient

Evaporator
Electric driven
BTU/hr
Watts
2°C ( 35°F)
60620
17830
-18°C ( 0°F)
36110
10820
-29°C ( -20°F)
24210
7120
Heating capacity (System net heating capacity at 35/0°F ambient)
57660Btu/hr / 16900W
Airflow
51000 BTU/hr / 14950 W
Compressor
YSF90E1G
11.5 in3
Refrigerant (R404A environmentally friendly)
15.9lbs / 7.2kg
Weight
1146lbs. / 520kg
External dimension (LxWxH)
81.1″ x 23.6″ x 84.2″ / 2060mm x 600mm x 2140mm
Advantage
More reliable
Simple maintenance
Ease of use micro-controller operation
Low-noise design
Micro Controller System
Multiple operating control modes
Automatic start/stop (Power Saver)
Controller self-diagnostics function
Alarm fault code system
Automatic Defrost
High low voltage detection
Refrigeration System
High efficient micro-channel condenser
Automatic hot gas defrost system
Automatic hot gas heating system
Drain pan heater
Refrigeration system, high and low pressure protection
Unloading system protection
Controller Display
Refrigeration, heating, high speed, low speed, defrost
Defrost temperature control
Temperature setting, discharge air temperature, return air temperature
Airflow
When the external static pressure is 13mm water column
Airflow 5600m3/h (3300cu ft / min)
Weight of Unit
Dimensions
Condenser Dimensions: 81.1″ x 23.6″ x 84.3″ (2060 x 600 mm x 2140)
Evaporator Dimensions: 66.3″ x 45.2″ x 8.2″ (1684 x 1149 x 210 mm)
Body Opening: 66.8″ x 46.0″ (1696 x 1168 mm)